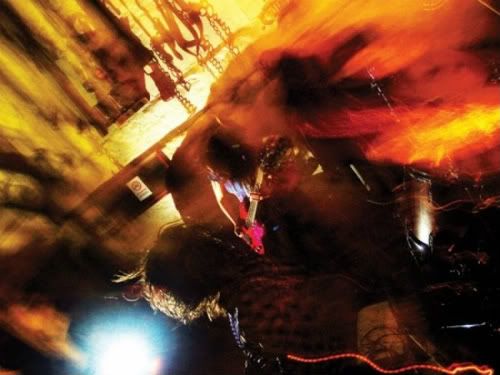 SPACE ROCK -YHTYE WHITE HILLS HELSINKIIN
La 31.3.2012 Helsinki, Kuudes Linja +Demonic Death Judge +DJ Jugh
Psykedeelistä space rockia soittava White Hills saapuu lauantaina 31. maaliskuuta ensimmäistä kertaa urallaan Suomeen. Yhdysvaltalaisbändin Kuudennella Linjalla järjestettävän konsertin liput tulevat myyntiin Tikettiin keskiviikkona 11. tammikuuta.
Bändin johtohahmon Dave W.:n sooloprojektista basisti Ego Sensationilla ja vaihtuvilla rumpaleilla trioksi laajentunut White Hills tunnetaan parhaiten pitkistä, raskaista ja psykedeelisistä space rock -teoksistaan. Hawkwindin ja The Stoogesin kaltaisten äänekkäiden pioneeriyhtyeiden ohella newyorkilaisbändin soundissa on kuultavissa samankaltaisuuksia myös esimerkiksi Comets On Firen, Wooden Shjipsin ja Circlen tuotantoihin.
Debyyttialbuminsa "Abstractions and Mutations" (2007) julkaisun jälkeen yhtyeeltä on ilmestynyt vuosittain lukuisia uusia äänitteitä, ja viime vuoden viidestä White Hills -levytyksestä tuorein on Roadburn-festivaaleilla taltioitu live-levy. Maaliskuun 20. päivä White Hillsiltä ilmestyy seuraava pitkäsoitto "Frying on this Rock", jonka yhtye äänitti yhteistyössä aikaisemmin muun muassa Sonic Youthin, Brian Enon ja Swansin kanssa työskennelleen Martin Bisin kanssa.
Illan avaa doomia, sludgea ja stoneria yhdistelevä Demonic Death Judge. Muun muassa Electric Wizardiin verratun suomalaisbändin kehuttu debyyttialbumi "The Descent" ilmestyi loppuvuodesta 2011.
Kuudennen Linjan ovet avataan klo 19.00 ja konsertti päättyy klo 22.00 mennessä. White Hillsin Euroopan kiertueen yhteistyökumppanina toimii The Quetus -verkkolehti.
LIPUT:
Myyntiin ke 11.1.2012
15 EUR +toimituskulut. Ennakko: Tiketti.
WHITE HILLS (USA)
"A schizophrenic trip through Acid Mothers Temple riff bludgeon, Boris chug, shaggy pseudo-grunge, and tender bursts of formless noise" –Village Voice
"They're at their best onstage, where they're loud, exhilarating and unhinged" –Pitchfork
"The spookiest space-noise you'll hear all year" –BBC
"Monstrous stoner-psych jams, 4/5" –Mojo
"This shit is lean and dangerous" –The Quietus
"Face-melting, 4/5" –Uncut
"Crashing wholeheartedly through the barriers of riff-heavy space-rock into territories of ambient, noise, psychedelia and all-out, pure rock´n´roll" –Rock-A-Rolla
http://whitehillsmusic.tumblr.com
http://www.demonicdeathjudge.blogspot.com
http://www.kuudeslinja.com
http://www.fullsteam.fi